In the era of Covid-19, no one is quite sure what shopping will look like. Between the 6-foot rule, constantly cleanliness, and unsure future finances, it's easy to see why going out to shop has lost its appeal.
Since the start of quarantine, there has been a rise in big-ticket purchases to make staying at home easier. As a result, many merchandisers have seen an increase in sales for these items:
Washer and dryer – Many communities have locked up local laundry mats to prevent the spread of the coronavirus. Because of this, many families are left without a way to wash their own clothing.
Luckily with our almost instant approval, families have been able to purchase a washer and dryer for their home with bad or no credit without missing a load of laundry.
Refrigerators and freezers – In order to stock up for two weeks' worth of groceries, many families have found that they need an expanded space to store extra food and take out.
With our affordable and no credit needed leasing options, many families have been able to qualify up to $5,000 to purchase the perfect fridge for their needs.
Home office furniture – Luckily for many employees, their work can be taken online and at home. However, these same employees have also found a need to expand their home office space in order to maintain productivity.
Our flexible pay off programs have allowed many new work-from-home employees buy what they need today and pay over time so that they won't miss a deadline.
Fortunately, many stores can support online shopping and can deliver even the largest of purchases. But while thousands of families have found ways to continue life from the safety of their homes, there are still occasions that require leaving the house.
The safest place to be, of course, is at home. And while you can take steps to reduce your exposure outside the home, leaving at all increases your risk. But if you do need to leave your home to shop, be sure to check with your state's or city's guidelines and follow safe social distancing.
We've put together some ways you can stay safe while still taking advantage of great savings.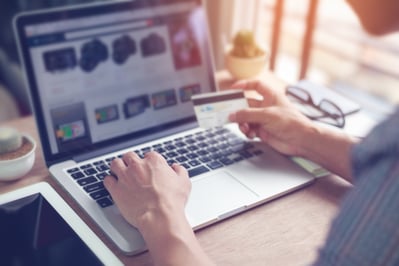 Research Online First
There's hardly any product that you can't find online first. Even if you don't purchase on a specific site where you found it, understanding what you want, its features and comparing with other models can help you know what sales are going for as well as reduce the amount of time you spend in the store debating which model to purchase.
Buy Remotely If You Can
Nowadays, many stores have an online catalog that you can shop from and even get at-home delivery. This means you can benefit from the weekend's savings without leaving the safety of your home, which is also incredibly convenient and time-saving.
Even if you can't get at-home delivery, shopping online beforehand can save you time spent inside the store. Some locations even offer curbside pickup, so you won't even have to leave your car. Combined with our quick and easy application process, and you could be enjoying a relaxing weekend on your new sofa.
Wash Your Hands Before and After
It's been drilled into our heads enough times to remember that washing our hands with soap and water is the best way to stop the spread of germs. And while it's easy enough to remember to do after you return home, it can sometimes be easy to forget to do before you leave home.
Many people are asymptomatic, meaning that they carry the virus but show no signs at all. This could even include you. By washing your hands or sanitizing before you enter the store, you're doing your part of stopping the spread and keeping workers safe.
Wear a Mask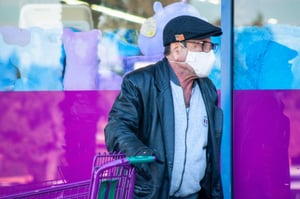 Similar to washing your hands before and after, wearing a mask helps to protect both you and those around you. The facial covering prevents those respiratory particles from entering the air. So if someone else in the store has the virus, it reduces their likelihood of passing it onto fellow shoppers. And vice versa for you.
Avoid Crowds
The novel coronavirus is spread person-to-person by respiratory particles that float in the air after a carrier coughs or sneezes. And while the virus can survive on surfaces for some time, the biggest risk is exposure to large crowds where it can jump from person to person.
Try to plan your shopping strategically and go when there will likely be less people. Some stores like some of our merchants even let you shop by appointment, so you can browse with the store all to yourself. You can call and ask beforehand in order to make the best judgement possible.
Try to Stay 6-feet Apart
Regardless of all your best intentions, you may still find yourself at the same store at the same time as many other people. In this case, be mindful of your physical proximity to other shoppers.
Maintain a 6-foot distance from other shoppers and avoid going down crowded aisles if you can. You may even need to stand outside the store if they have a customer limit. Just be sure to stay distant from others who are also outside with you.
Remember, the best way to stay safe is to stay home. But once you do find a great deal, it's understandable why you would be hesitant to spend any of your hard-earned savings on big ticket items with such an unpredictable future.
Luckily, we here at Kornerstone can provide you an alternative way to make life-essential purchases with affordable leases and flexible repayment plans. You can even apply for our leasing options online to avoid person to person contact while enjoying great discounts.
Call us or apply today in just a few minutes and take your approval up to $5,000 with you to the store.