After a long week of pushing through work, completing chores and taking care of everyone else, we could all use a little "me time." But while our hearts may say "yes!" to a night on the town, our bank accounts may be giving a stern "no." Luckily, there are still plenty of ways to treat ourselves without breaking the bank.
Here are a few ideas to enjoy a fun and relaxing time without our wallet taking a hit.
Movie Night-In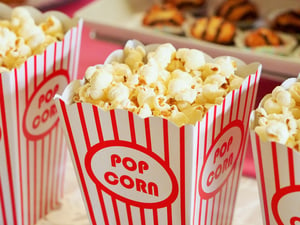 Yes yes, we're all familiar with Netflix and the never ending hours of bin
ge-watching. But let's be honest, most of that time is spent "watching" a TV series in the background while we scroll through our social media feed.
Instead of falling into the same routine, make a special occasion of going out to the home movies. Pick a film you've wanted to see for a while, pop some popcorn, dim the lights and put your phone on silent. Really immerse yourself in your home theater and enjoy the show.
Picnic
When was the last time you packed a picnic? Make some gourmet turkey sandwiches with guacamole and ranch, or arrange a charcuterie plate with gouda and brie cheese paired with sliced pears, wheat crackers and chocolate.
Find a grassy hillside with a great view of the park pond, lay out a large enough blanket to fit you and your favorite friends, and enjoy a meal under the sun.
Spa Day
Draw a hot bath with epsom salt and lavender oil, pour yourself a cup of chamomile tea and soak away your stresses with soothing music playing in the background. Then when you're done, use your favorite lotion, trim and paint your nails, and wind down with another cup of tea.
Dinner
Dinner doesn't have to feel like a chore. Try a new recipe like chicken parmesan, Greek gyros with falafels and tzatziki sauce, or stuffed peppers with Spanish rice.
Then instead of simply making room at the counter, clean off the dining room table and set it with your best plates and glasses. Pour a bottle of red wine, put on your favorite album and enjoy eating at the finest restaurant in town.
Cocktail Hour
A bottle of your favorite drink is much less expensive than when its mixed up at your favorite bar. Pick out your top brand, pull out your favorite wine glass or tumbler glass, don't forget the ice and enjoy sipping a much-needed spirit on your patio during sunset.
Despite all your efforts to save a dollar here and there, life can still hit you with a big surprise like a broken appliance or blown out tires at any time. But with our no credit needed leasing options, you can get financing for big-ticket items and pay over time.
Call or visit us today to fill out our simple application in just a few minutes and get almost instant response on whether you qualify for up to $5,000.