If it's time for new appliances and the budget is tight, you're probably looking for a no credit needed program to finance your new appliances. We don't realize how much we rely on our household appliances until they stop working. Whether you're getting ready for a remodel, updating to meet your lifestyle, or replacing, appliances can be expensive. No Credit Needed programs are exactly what you need to stop your bank account from cringing.
When to Get New Appliances
The average lifespan of appliances is roughly 13 years but that doesn't guarantee that your appliances won't have a longer or shorter lifespan. Here is a list of how long some essential items typically last.
Gas ranges: 15 years
Washers and dryers: 13 years
Refrigerators: 13 years
Dishwasher: 9 years
Furnaces: 15-20 years
Air conditioning units: 10-15 years
Electric or gas water heater: 10 years
Read more about the lifespan of your appliances, furniture, and tires here.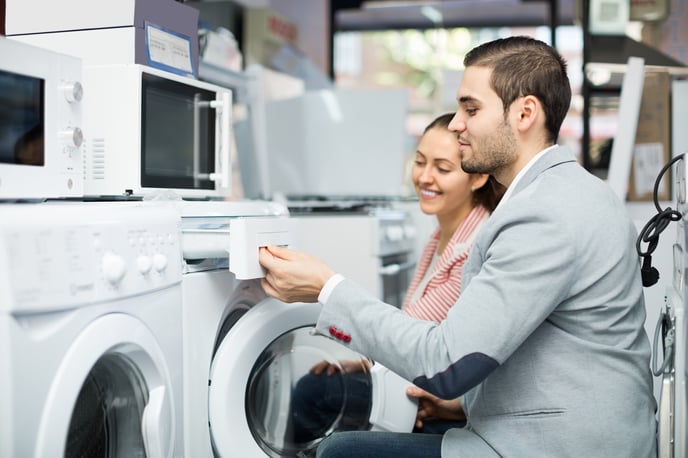 Buying Appliances with No Credit Needed Programs
Lease to own companies, like Kornerstone Credit, offer a no credit needed purchase option for appliances. There are two main ways you can apply with no credit needed programs like Kornerstone.
First, you can visit your local appliance store and see what lease-to-own programs they have available.
Otherwise, you can call Kornerstone Credit to find out which local appliance stores are partnered with us. The application only takes an average of 15 seconds, so it's easy to apply. You'll know almost instantly if you qualify for up to $5,000, even with bad or no credit. After you're approved, you can take your approval to one of our partner retailers and they'll help you walk away with these big-ticket items.
Why Use No Credit Needed Appliance Financing?
There are numerous situations where Kornerstone Credit might be just what you need. No, not every situation calls for online no credit needed financing, but we can be the solution for people who are struggling with bad credit. There are many circumstances where we might be the best option for you. So, apply today and find out if we can help you!
Learn more about No Credit Needed Financing for furniture, appliances, tires, and wheels here.
We'll continue to update this page to make sure all the information is always up to date and pertinent. As always, if you have questions or concerns, call us so we can help at 888-521-5111