If you're like millions of people, you've recently moved your work from the office to your home to maintain social distancing precautions against COVID-19.
We're sure you've noticed the benefits of working from home: less commute time, less distractions from co-workers, less time spent in meetings that could've been an email. But we're also sure you've noticed the cons of working from home: more multitasking with chores, more distractions from the kids, more excuses to look away from your screen.
As convenient as it is to simply plop your laptop wherever you currently are, the temptation to "work" in front of the TV is much greater when you don't have a designated workstation. When picking a working space, avoid high-traffic areas as much as humanly possible. Even a corner in your bedroom can help you stay focused more than the corner of your living room couch.
Once you have a space picked out, here are a few key items you'll need to continue a seamless output of stunning work.
A Good Desk and Chair
Find a good room or corner that's open enough to fit a desk. Sitting at a work desk can not only put your mind in work-mode, it can also ensure your computer screen and wrists are level with your body. Simultaneously, having a good office chair can keep you from slouching and provide lumbar support as you hammer away at your long to-do list.
You can buy a spacious desk and supportive chair today and pay over 3 or 12 months with minimal fees with our flexible, no credit needed leasing options.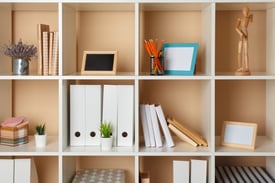 A Rug and Bookcase
Now that you have a supportive chair, you'll want to enjoy it to its fullest with smooth movement. Plus, you wouldn't want to snag your carpet or scratch your hardwood floors. Placing a rug or chair mat underneath will keep your work on a roll.
Depending on your profession, you may have multiple reference books that need to be easily and quickly accessed. And the last thing you want to do is place any of these heavy reading materials on a flimsy bookshelf that teeters when you walk past it. You'll be happy to invest in a sturdy bookcase.
If dropping a couple hundred dollars on these items doesn't sound appealing, you can always stretch out your savings and simply pay for them over time with our lease-to-buy options. All you need to qualify is a job and bank account for longer than 90 days.
Digital Assistants
Sometimes, the biggest benefit to working in the office was using that high-quality printing machine. Or taking a break at that fancy new espresso maker. Or those beautiful 27-inch dual screens that let you see all your apps and sites simultaneously. Cutting down that high-tech real estate to just a single 15-inch or even less laptop with an outdated software processor can easily take a toll on your productivity.
With our almost instant response applications, you can expand your screen space and invest in a new printer today and get right back to work.
No matter what you need to get your work back up to speed, Kornerstone Credit can help you finance your dream home office. Remember, you can write off some business expenses as a deduction when you file your taxes, so you'll practically be reimbursed for upgrading your home office.
Apply today for our affordable, no credit needed leases and start shopping with our flexible payment plans.